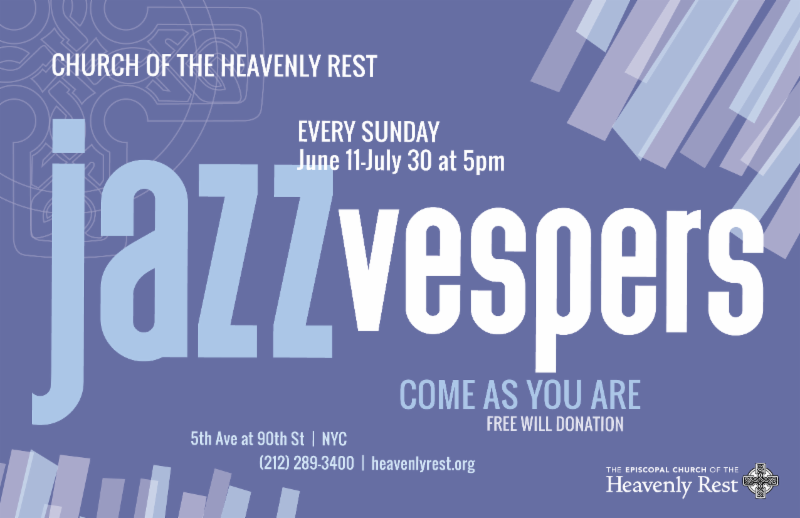 Jazz Vespers
Join us every Sunday from June 16-July 28 at 5pm as we celebrate our way into the week with the ultimate art form of improvisation and fun – jazz! Featuring our Song Leaders and the CHR Vespers Jazz Band, we will enjoy sacred and secular song and text in this original, joyful format. Come as you are, there's no dress code.
Canterbury Choral Society: A Festival of Gospel Music
A celebration of spirituals, jazz and gospel! In a departure from their usual classical repertoire, Canterbury Choral Society will perform three pieces by contemporary composers: Rollo Dilworth, Duke Ellington and Nicholas White on 
Friday, May 17
 at 
7pm
. Renowned Gospel singer Janinah Burnett is the soloist. 
Buy your tickets online here
 or at the door – $25, $20 seniors, $10 students.
Jazz for Justice: Performance by Wynton Marsalis at Church of the Heavenly Rest to Benefit Hudson Link for Higher Education in Prison.
Join us for Jazz for Justice, a performance by internationally acclaimed musician Wynton Marsalis, who has generously donated his talent to support the astoundingly effective work of Hudson Link for Higher Education in Prison. The performance takes place at the Episcopal Church of the Heavenly Rest under Michael Pendry's Les Colombes (The Doves) exhibit, a brand new and highly praised art installation which features over a thousand origami doves soaring majestically overhead. Inscribed with messages and prayers of peace and hope, the doves are folded by people from around the world, including the alumni of Hudson Link, who added their thoughts about what "release" means to them. Your ticket purchase will directly support Hudson Link's college programs for incarcerated men and women.
June 14 at 7pm
– buy tickets here. 
Donizetti: Symphony in E Minor and Rossini: Stabat Mater
Gaetano Donizetti reached the height of his ambition when he was appointed Kapellmeister to the imperial court of Vienna in 1842. He was ready to meet the German-speaking world on its own terms: his only teacher was a Bavarian (Johann Simon Mayr, whose Medea in Corinto was revived last year by Teatro Nuovo), and he had been composing string quartets all his life. He picked the last of these to expand into a full-scale Romantic symphony for the Viennese public. June 27 at 8pm – buy tickets here.